Support & Help - SmartQ™ Requests
SmartQ Requests provide a way to report issues about facilites and equipment.
There is a short description for a summary, and a longer description if the issue requires more explanation.
You can optionally upload photos or videos. Sometimes that's easier than a long explanation.
After submission, the request goes to the dispatcher, who prioritizes and routes the work to a staff technician or contractor.
The SmartQ request form is a method for reporting issues about a building, a room within a building (Places) or about equipment or any asset (Things) . The objective is to provide people handling the dispatch function with enough information that they can determine an appropriate staff member or outside contractor to fix the issue, and to assign it the appropriate priority. 
The SmartQ request form is designed to be quick and easy. There is a version of the form (called Quick Job) that dispatchers can use to enter requests when someone calls or sends an email, or they observe an issue themselves. 
Your administrator can set this up in the SmartQ Setup settings. You can read more about self registration in this article.
Completing the SmartQ Request Form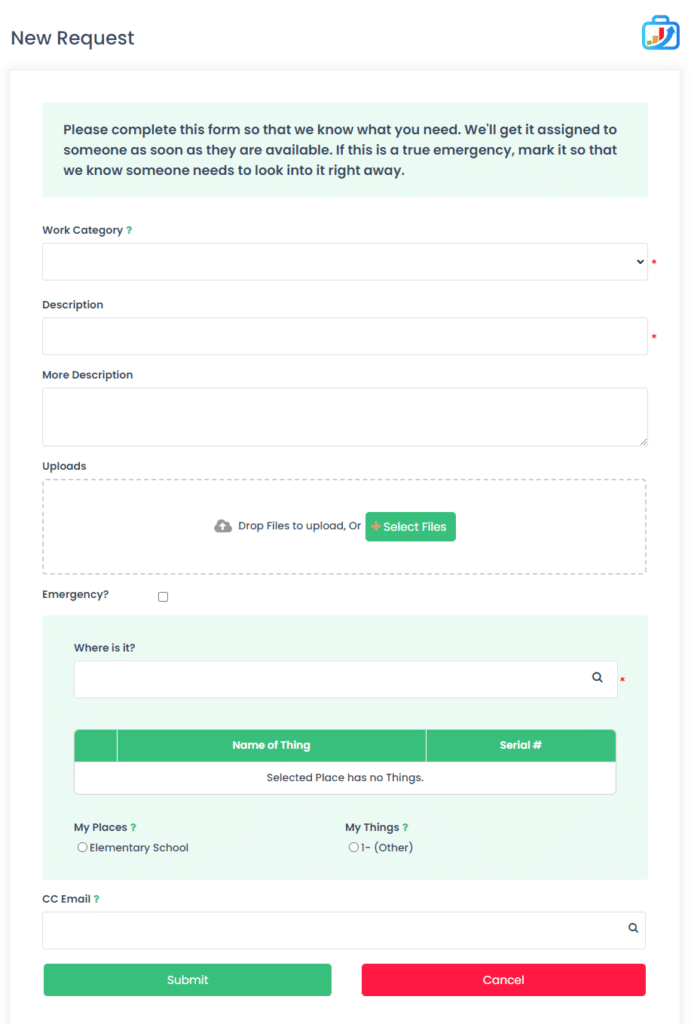 Completing the Request Form
Work Category must be entered. It is a list of types of work and is used to help determine the appropriate resource to assign to the job. If you don't see a category that you think should be there You should inform your eSSETS administrator. They can change the list if it seems appropriate.
Description is a short description of what needs to be done. It must also be entered.
More Description allows you to go into greater detail about your request if it seems appropriate to do so. Remember, the goal it so clearly convey the issue you are reporting.
Uploads give you the ability to add images and files. From a phone or tablet, you can use your camera to snap a picture of the issue or choose from images already on your mobile device. A computer has the capability to drag files from another window or use the file chooser.
The Emergency checkbox lets the dispatcher know that the work needs to be done immediately in order to reduce the amount of damage caused by the problem.
Where is it has several methods for identifying where the problem needs to be resolved. You can search from a list of available Place names by clicking the magnifying glass on the right. Once a place is identified, a list of Things at that location are shown. If the problem is with a Thing, then choose it, but at a minimum you must select a Place.
My Places show any Places that you have been identified as in your possession (such as your office).
My Things shows any Things an administor has identifies as in your possession, such as an assigned laptop, a company car, etc.
CC Email lets you add others who are interested in knowing the progress of the work being done, for example a supervisor. Simply start typing the name, or use the magnifying glass on the right for search options for finding the person.