When a task doesn't yet have any attachments uploaded, the Attachment icon starts with a white background. Click it to upload the first attachment.

After clicking the icon, a box appears for choosing which files you want to attach to the task.
The first available method is to drag and drop files from another window to this box. An example is from Windows File Manager.
The second method is to click the Select Files button.
The button presents you with a file chooser you can use to find and select the files you want to attach.
Devices with cameras may also let you choose to use the camera to take a picture or video.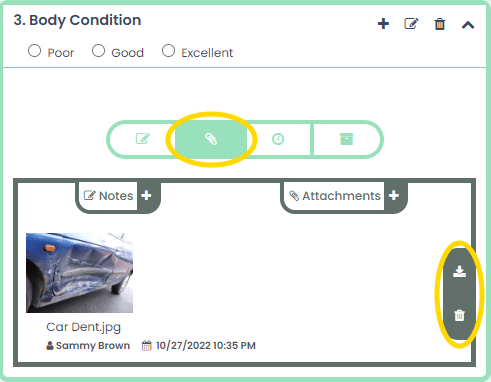 Once the attachment is uploaded, the Attachments icon now shows in green rather than white. Green icons indicate a task has whatever that icon represents, in this case Attachments.
To the right of the attachment are two icons. The first is an icon for downloading the file in its original size. The second, a trash can, is for removing the attachment from the task.